We loved working with Capehart Landscaping so much that they are now here twice a year! We have a clean up done in the fall and every spring we have new mulch brought in and potentially expand some flower beds and plant some new flowers where things might not have worked the year before. They are great with working with us. Plants have a 1 year guarantee. They our timely and professional and have made our gardens a pleasure to enjoy especially when we were home so much with Covid. They are even able to plant things that can withstand out 2 dogs!!! We highly recommend them to everyone!!! They have done a great job with our yard and our well with a little extra!!!!
I am very pleased with the work Capehart did. I have a beautiful new walkway, safer steps to the front door, and better lighting. It has certainly added value to my home. I worked with Justin. He presented several options and made suggestions and was patient as I took some time to decide what I wanted. The installers worked incredibly hard and did an excellent job. Barbara in the office also answered questions and kept me informed. I would definitely use this company again and would recommend them to others.
We worked with Leslie at Capehart to design a landscaping plan for a "blank canvas" yard at our home. Our project included a request for trees, plants, and a deck/patio. Capehart did a great job listening to our objectives, and designing a plan that incorporated those preferences with a professional perspective that took into consideration creativity and efficient use of the land. Leslie was extremely patient with us landscaping novices as we took a couple of months to come to a final decision on design, asking lots of questions along the way. And once we gave them the green light, Capehart was installing trees just a few days later. One month in, we are still happy with the planting and design. We also completed a deck and patio design with Capehart that we have not installed yet, but are very happy with and plan to install in the future. We spoke with several local landscapers to get quotes and Capehart was generally competitive on the tree planting, and more expensive on the patio installation. I will note that in speaking with a handful of vendors, Capehart always yielded rave reviews from on integrity, professionalism, and quality of work. I would certainly recommend Capehart for a high-quality landscaping project.
Everything went great! Looks great! Arrived when scheduled and no delay in completing.
We have been working with Justin and his team for almost 15 years, and would recommend him to anyone. We renovated a home, and needed front and back regrading, as well as landscape design and installation. David designed a beautiful hardscape and softscape plan, and worked with us to tweak it to fit our style. He was very knowledgable and easy to work with. Justin is a consummate professional, and will make sure things are done right the first time. He also helped to provide recommended irrigation and tree experts.
Capehart Landscaping & Design did a great job with our project! Communication with Justin and Shea was excellent and we were always kept updated when our planting would commence since this depends on the weather and their prior commitments. We discussed with Shea what types of plants we wanted and she came up with a wonderful plan where we have various colors and heights blooming throughout the season. We wanted all perennials that would attract hummingbirds, butterflies, and bees, and she devised a wonderful plan for our yard. The crew that was sent did a great job and treated our yard with great care! We are very pleased with our finished look and plan to continue to use them for added mulch and flower bed cleanups each year.
Our whole experience with Capehart was fantastic, from the initial meeting with Leslie (their design specialist) and Justin (owner) to the final walk through. Both were helpful in answering questions and addressing concerns throughout the design process, specifically about any potential for damage to the pool. They were also happy to meet with us as often as needed and showed us several prior projects they had completed, per our request. They were also upfront about costs and estimates, documenting everything for us and making necessary adjustments. Once construction began, their crew did an amazing job of keeping our yard and street clean, to the extent that we had neighbors and an HOA board member comment to us! They were also very nice when asked to move their trucks/equipment so I could get out of my garage and did so right away (which I really appreciated because I didn't always give them much warning!). Throughout construction, Justin and Leslie were always available and responded quickly to questions/concerns (either with a phone call, text, or in person if it was necessary). We are extremely satisfied with the end result and would not hesitate to use Capehart again for future projects! The best part is we have a beautiful new outdoor space to enjoy, our yard looks as if nothing happened, and our pool is working as it should. They even power washed the cover, so it looks even cleaner than it did prior to construction!
Justin and his team were responsive, fair and meticulous in their work. Highly recommend them.
Capehart is an amazing company. They take extreme pride in their work. Designer visits frequently to be certain everything is placed properly, owner stops by to for quality control several times during the project. At the end of each day, the street in front is cleaned and garbage is hauled out. This is the second job this company had done for us. They will be returning in the Spring to do another hardscape design. I cannot over recommend this company.
We were very pleased with the results and couldn't have asked for more from Shea. She was professional, knowledgeable, patient, and personable, and came to the house twice to review with me what we wanted done, what plants saved and moved, etc . Unfortunately, the work was scheduled when we we had to be out of town, but Shea was in constant communication with me and sent daily pictures of the process. We would definitely use Capehart again, and I would definitely work with Shea again!
Excellent service and quality work. We added a pool to our backyard. My wife and I selected Capehart Landscape and Design to help update our entire landscape design at our home. Leslie is fantastic to work with. Prompt arrival for all appointments, professional and creative. Great communication through out the entire project. Their crew arrives on time at the beginning of the day and cleans up at the end of the day. Justin was instrumental in identifying an issue with the pool install that could have been a major issue had it not been identified. The issue would have had a major impact on the overall landscape look, particularly the pool deck.. Very grateful to have Justin, Leslie and the Capehart crew help us realize our dream of a beautiful back yard that constantly receives positive reviews from our guests. Highly recommend if you need a quality landscape update performed by a professional company.
Great!! We started with Capehart Landscape and Design a year and a half ago when we wanted to mulch in a large portion of our yard off the patio and also decided to update our landscaping. That fall we got the mulch and did the prep work for spring. Last spring we had 7 different flower beds landscaped of varying sizes including the front of our house. We loved the plants that were suggested and they went along with what we had in mind with keeping with perennials and attracting bees, hummingbirds and butterflies. They were back in the fall for a clean up and we split some grasses and transplanted those in preparation for spring. This spring we got more mulch and some new plants along with those that didn't make it and were under guarantee. They are very professional. Our phone calls are returned within 24 hours. The work ethic of the crews has been great and they leave our yard looking beautiful. We constantly get compliments from our neighbors. Shea did an amazing job of selecting plants for our yard that our just thriving and made wonderful suggestions for how we should expand the mulch which was much better than what we had planned. Justin also came out to talk us through putting the section we wanted under mulch and was there in the first fall and spring when the initial work began. They both helped our project look so much better!!! We will be using them twice a year from now on to keep out gardens and mulch looking great!
Leslie's landscape design is spectacular, and it solved a number of problems with the steep grade in the backyard. Our three installers did excellent work, from laying the paver patio to enriching the beds around the house to taking great care with planting the flowers, shrubs and trees. We are very pleased with the project and recommend Capehart heartily.
Leslie, the landscape architect and Mike, the work supervisor were both fabulous to work with. They were pleasant, prompt, courteous, efficient, knowledgeable, detail oriented, flexible, accommodating and easy to work with.
Everything has gone great and we are very pleased to be working with this company. After many years of trying to have plants come up at the right time at the right heights and doing some mulching work of our own. It is nice to have people who know what they are doing in charge! We intend to keep using them to keep our flower beds looking great. Next comes the fire pit!
Capehart provided a landscape design for our backyard after an initial consultation at our home. We decided to do the project in phases due to budget restrictions. The first part consisted of a large privacy screen for our porch. The screen was custom built with quality materials and installed securely. The team took the time to stain the cedar a darker color on site when I expressed that I had originally expected it to be a darker stain. I really appreciated the extra time they took to darken the stain. The end result is a gorgeous, artistic screen!
Everything went perfectly. Shea was amazing. Great communication skills, and flawless design and execution. I could not be more pleased.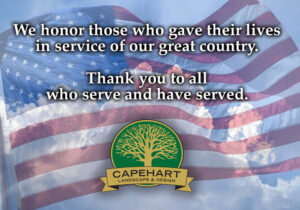 Schedule a free consultation with one of our Outdoor Living Specialists
Read More »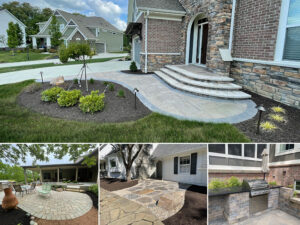 It's not what we do, it's who we are. Schedule a free consultation with one of our Outdoor Living Specialists
Read More »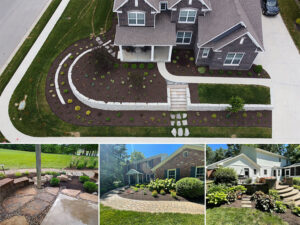 It's not what we do, it's who we are.    Schedule a free consultation with one of our Outdoor Living Specialists
Read More »